Made with everyday ingredients you may already have in your house. This simple crepe is filled with a Hickory Smoked Ham bechamel sauce and rolled and crisped for a perfect snack or an accompaniment to a meal. Add some vegetables to make it a full meal.
You can make these ahead and freeze for a quick snack.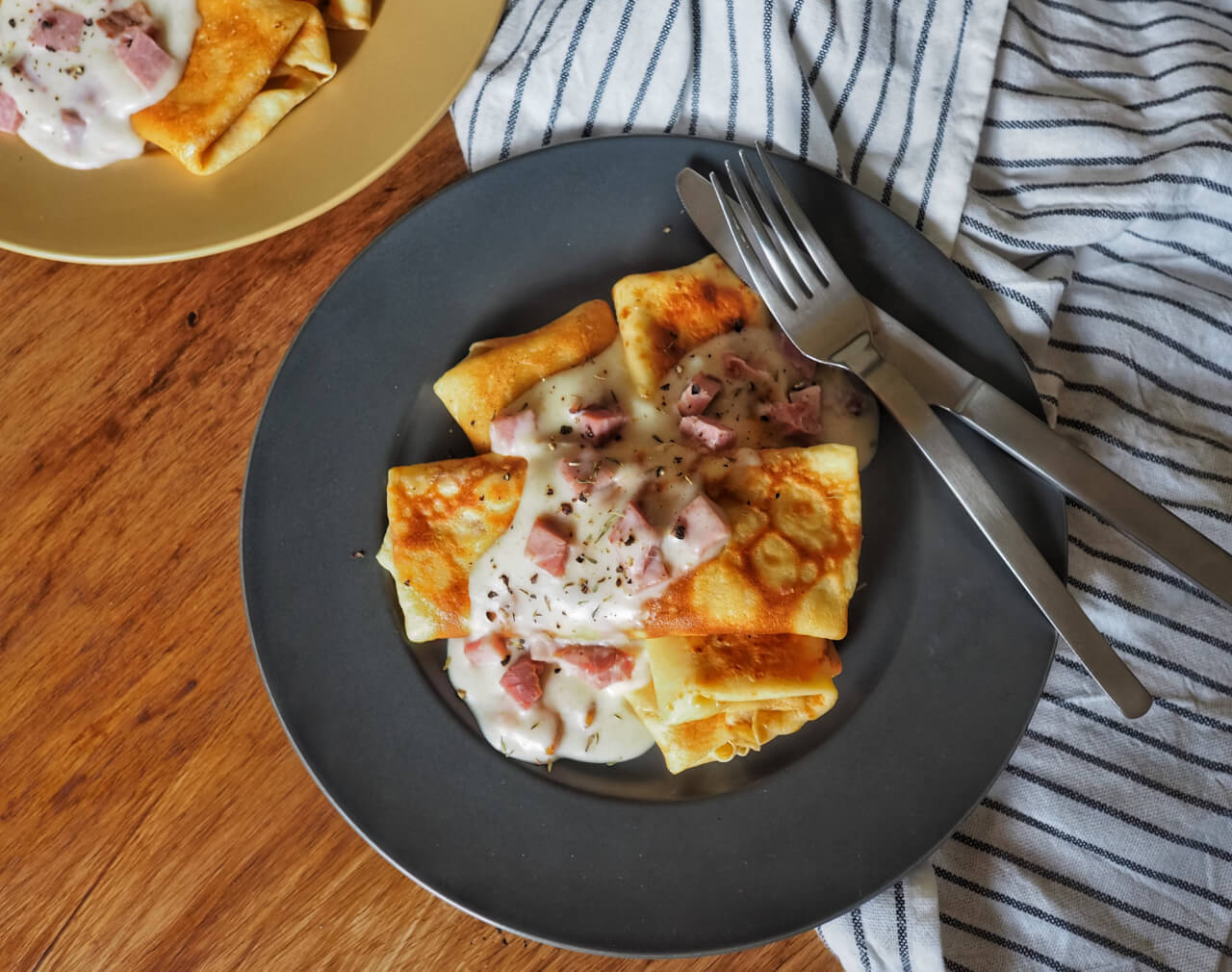 Rolled Ham Crepe
Serving Size: 3-4

40 minutes
Crepe (makes 6-8)
1 cup flour
2 eggs
1/2 cup milk
1/2 cup water
1/4 tsp salt
1 Tbsp unsalted butter, melted
Bechamel Filling and Sauce:
2 Tbsp unsalted butter
2 Tbsp flour
2 cups milk
1 tsp salt
1/8 tsp nutmeg (optional)
Crepe:
1

In a mixing bowl, whisk together the flour and eggs. Gradually add in the milk and water and stir until well combined. Add the salt and melted butter and mix until no lumps in batter.

2

Heat a non-stick pan on medium heat. Ladle in the batter while tilting and making a circular motion to spread batter in an even thin layer.

3

Cook the crepe until the bottom is light brown. Flip and cook the other side for 30 seconds.

4

Set crepe on dish and repeat.
Bechamel Filling:
1

Melt butter in a pan over medium heat. Once the butter melts and starts to bubble slightly, whisk in the flour. Continue to whisk until the roux starts to turn into a light golden color and starts to smell nutty, about 6 minutes.

2

Increase heat slightly and slowly add milk into roux and whisk until creamy and thick.

3

Add cubed Jones Dairy Farm Hickory Smoked Ham and coat.

4

Turn heat to low and taste with salt and nutmeg (optional.)
Assemble and cook:
1

Place about 3 tablespoons of bechamel filling in the center of each crepe. Leave some bechamel sauce behind for plating.

2

Fold bottom of crepe 1/3 up, covering up the filling. Then bring both sides of crepe in, then roll the crepe all the way up. Place on a plate seam side up and repeat.

3

In a warm pan, add 1/2Tbsp of butter. When the butter melts, add the crepes, seam side down and cook until they are golden and slightly crispy.

4

Flip the crepe and add the rest of the butter. Lift each crepe slightly to get butter under and cook until golden.

5

Serve with reserved bechamel sauce. Best enjoyed when filling is still hot.
Back to the list